free service · open source
Fit4Contract
Your assistant in information security concerns when working with external suppliers
Fit4Contract is a self-assessment tool made for helping clients in reviewing their contracts with their suppliers. In case of an incident, a good contract can make the difference, if the responsibilities of each stakeholder are clearly defined. Fit4Contract will help you to negotiate a contract that will protect you better in case of an information security problem.
It is a similar tool to the Fit4Cybersecurity but is built to help the user identify cybersecurity and data privacy concerns to negotiate for their supplier contracts.
Fit4Contract can be used in three different languages (English, French, and German):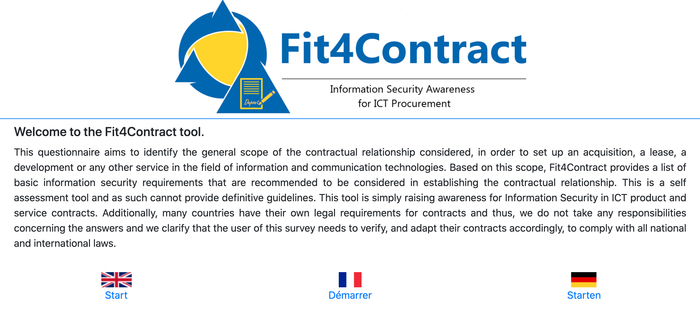 Depending on your answers given in the questionnaire, Fit4Contract provides a list of basic information security requirements, advised for establishing the contractual relationship.
It is a free, yet very useful tool, to make your self-assessment meeting the necessary cybersecurity standards.
---
---